On Tuesday, 11th October 2022, Shikshana Prasaraka Mandali's, SPM ENGLISH SCHOOL PUNE had the privilege of hosting a short visit, by the eminent personality, Hon. Shri Bhagat Singh Koshiyari, Governor of Maharashtra, lit the lamp, performed a puja of Bharat Mata, and then viewed the 3-D mural of Akhand Bharat.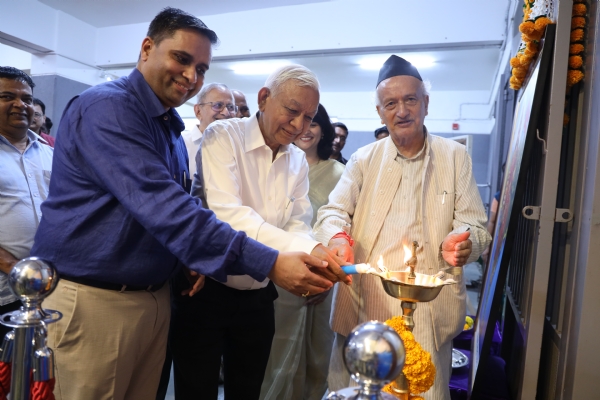 The students of Std X compered the program and commenced by welcoming our esteemed Guest. Hon. Governor who was felicitated by S.K. Jain, Chairman of SP Mandali, Managing Council, Vice Chairman of S. P. Mandali, Shri. Shrikrushna Chitale and Chairman of School Committee,. Advocate. Mihir Prabhudesai with a shawl, coffee table book, and a bouquet.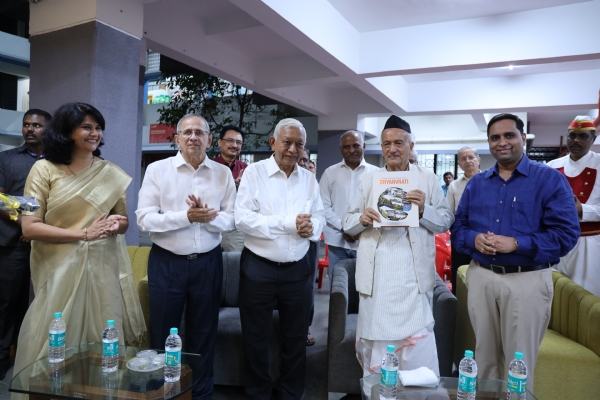 Principal Rama Kulkarni requested our esteemed guest to address the audience and thanked him for gracing the occasion.
Hon Governor addressed the audience and appreciated the efforts of the School in putting up the Akhand Bharat Map in an English medium school. It is the first of its kind he has seen. He said that this map is a wonderful initiative to connect our children to the history and geography of Bharat.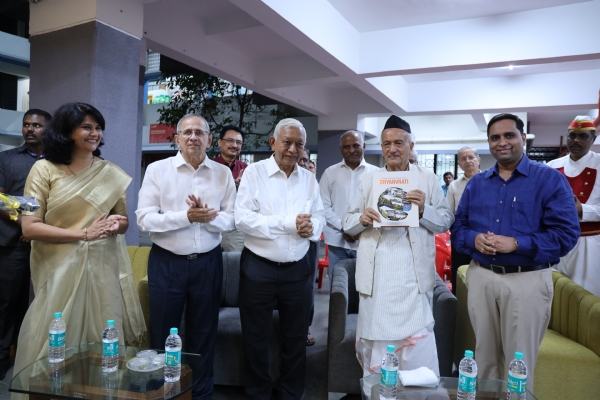 He blessed the students who he said would definitely see Akhand Bharat one day.
The program concluded with a photo session of Hon. Governor with the students.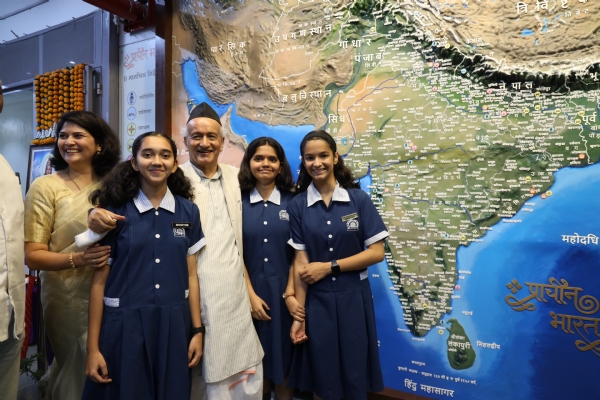 India's first *Ancient India complete 3D map* of 15 feet x 10 feet in size was recently commissioned and installed at S.P.M. English School. The concept of this map being installed in SPM English School was first put forth by Shri. Mihir Prabhudesai, Chairman school committee. The project was conceptualized by Shivseva Pratishthan's Chief, Shri. Dhananjay Chandratre was designed and produced by Shri. Rishikesh Raut, Founder and Principal Designer of Studio bucket design, and his team after 4 month's research in collecting relevant information. It took 3 months to produce and install this map at SPM English School, Pune. Mrs. Rama Kulkarni, Principal at SPM English School also helped in curating this map.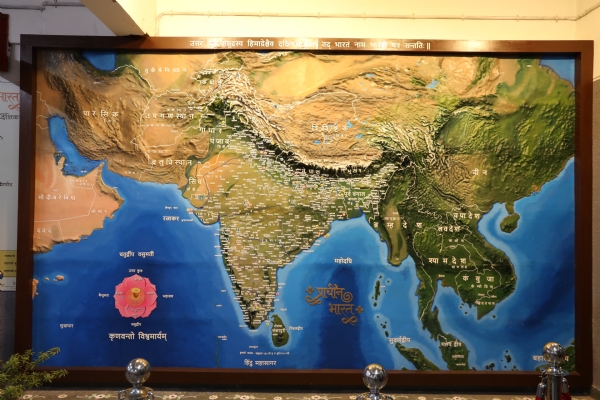 This ancient India map is produced using the latest 3D technology and is made up of Fibre Reinforced Plastic, which is highly durable in its nature. This map being three-dimensional in it's nature exactly replicates all geographical features like mountain ranges, hills, plateaus, valleys, rivers, coastal areas, and geographical contours of the Indian subcontinent. The viewer gets to experience Indian geography as it is in its miniature format.
One gets to see all the ancient cultural cues in this 3D map of Ancient India such as sixteen Maha Jana padas mentioned in Mahabharata, ancient kingdoms, and their regions. This 3D map is not only a geographical representation of current India but also a cultural legend of Ancient India that is long forgotten by our current generations.
The following information has been included in this 3D map
1. Sixteen Maha Janapadas mentioned in Mahabharata
2. Seven important Rivers of India
3. Char Dham
4. Twelve Jyotirlingas
5. Four Adi Shakti Pithas
6. Seven Moksh Puris
7. Kumbh Mela Sthan
8. Ancient Indian Universities
9. Indian Mountain ranges
10. Historical Kingdoms and their regions
11. Ancient names of various regions
12. Ancient names of various cities
13. Current names of ancient cities
14. State Boundaries
15. Broundries of different countries
16. Capitals of various countries and states.
Students learn and memorize a lot of things quickly through experiences and visuals. For example, they learn about science through various experiments in Science labs. This 3D map of ancient India is just like a History-Geography Experience Lab for students, where they actually get to experience and re-live the geographical and historical events and moments in the History of India. This History-Geography 3D lab is a must-have lab for all schools.
Unless our students relate themselves to the great history and heritage of our nation and experience it in relation to our vast and diverse geography, our future generations will never be able to emotionally bond with the idea of Ancient India.
*Ancient Indian Map an unforgettable and enriching experience*