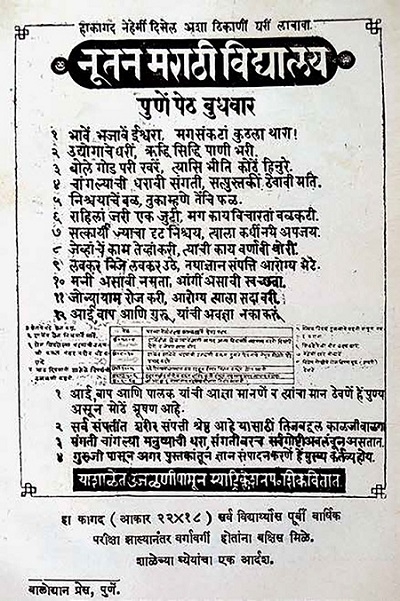 A name that claims 125 years of glorifying contribution towards the development of education in the state of Maharashtra. A name that boasts of 40 institutions put up across Pune, Mumbai, Solapur, Chiplun and Bengaluru. A name that believes in building not just an institution but a knowledge centre – Shikshana Prasaraka Mandali.
Founded in 1888, Shikshana Prasaraka Mandali is one of the pioneers of educational societies in our state. The institution since its inception is determined to building an environment that encourages the spirit of free thinking, thus imparting quality education to more than 45,000 students.
S. P. Mandali owns educational institutions including pre-primary, primary, secondary and higher secondary schools, colleges for Arts, Science and Commerce, a school for hearing impaired children, a therapeutic drug monitoring laboratory, an institute carrying out research in Ayurvedic and Herbal Medicine and management institutes.
Some of the revered institutions comprise S. P. College and Naralkar Institute of Management in Pune, H. D. High School and Mangalvedhekar Institute of Management in Solapur. There are several accolades S. P. Mandali has to its name - Ramnarain Ruia College of Mumbai has been awarded 'four stars', Ramniranjan Anandilal Podar College in Mumbai and Sir Parshurambhau College in Pune are honoured with 'A' grade by National Assessment and Accreditation Council of India, while Tilak College of Education in Pune has been awarded 'A' grade. Prin. L. N. Welingkar Institute of Management Development & Research Mumbai is ranked among the top 15 Business schools in the country.
All the institutions of S. P. Mandali are known for their academic excellence and attract students from all parts of India. Ramnarain Ruia College, Mumbai has been awarded 'Four Stars', Ramniranjan Anandilal Podar College, Mumbai 'A+' grade; Sir Parashurambhau College, Pune 'A+' grade and Tilak College of Education, Pune the 'A' grade by the National Assessment & Accreditation Council of India. Principal L. N. Welingkar Institute of Management, Mumbai has the distinction of being 7th in the South Asia region. Welingkar Institute also has several foreign collaborations and exchange programmes.
Having a diversified and dynamic module of operation, each institution at S. P. Mandali is known for its academic excellence and calls for students from across the nation. The society democratically elects its office bearers regularly and gives due representation to the employees of all its institutions. Many eminent personalities have served the society and contributed extensively to the development.