International Yoga day was celebrated by S.P.M English School, Solapur on Tuesday,21st June 2022 with great enthusiasm.Mrs.Snehal Dingare ,Volunteer ,Art of Living grace the function as Chief guest.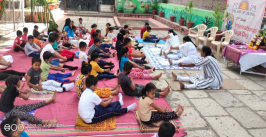 Mrs Shraddha Rasalkar welcomed the Chief Guest and the students for the program.The function began with a brief introduction of International Yoga Day by Mrs Rasalkar the anchor of program and followed by Pooja of Guruji Shri Shri Ravishankar, Founder of Art of Living by the auspicious hands of our Chief guest Mrs Dingare and our Principal mam Mrs Sangeeta Koli. Principal mam felicitated Mrs Dingare with napkin bouquet. Inher address to students Principal mam explained the importance of International Yoga day and how regular practice of Yoga will help the students to achieve better mental and physical health.
Mrs Dingare gave information about Yoga and its benefits. Mam started her session with yoga prayers and shlokas.Students were made to sit on mats.They were instructed to perform kids Yogasanas . Teachers guided the students and also performed asanas with them.
The session ended with meditation.
Our chief guest encouraged students and was overwhelmed to see the excitement of students and staff. The celebration ended with the vote of thanks by Mrs Rasalkar mam.
Thus the celebration was amazing.